---
CONCEPT
Frypans are not created equal when it comes to a diverse diet.
Why should they be the same, when you don't always cook the same food?
Created with your specific everyday cooking needs in mind, GreenPan™
proudly introduces a new Thermolon™ ceramic non-stick,
now with a physical attribute to make your cooking experience virtually effortless.
Join our revolution with our unique collection of 3D-cookware,
fashioned for particular food categories. Included in our innovative new designs
is a flat surface for protein rich foods like eggs, a dimpled surface for fish and veggies
and a raised ribbed surface for meat and poultry.
And because you have enough to remember throughout the day, our handles
are made to remind you which pan cooks what. Yes, it's just that simple!
---
BUTTONS
---
LABELS
---
PACKAGING

---
FOLDER

---
THE MAKING OF
---
STANDING DISPLAY
---
IN STORE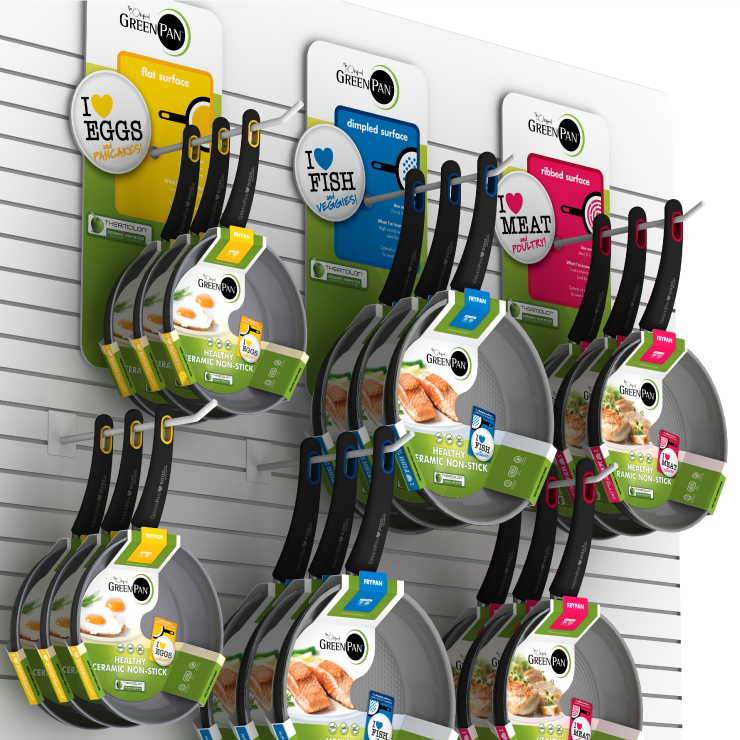 ---
PRODUCT
©THE COOKWARE COMPANY / GRAPHIC DESIGN: CHARLOTTE VERMEERSCH
 / PRODUCT DESIGN + 3D: JAN HOEKSTRA
PICTURES: JULIAN HILLS AND KARL BRUNINX / FOOD STYLING: THE COOKWARE COMPANY
BewarenBewaren
BewarenBewaren
BewarenBewaren
BewarenBewaren